Celebrate the 11th UNESCO Global MIL Week along with EKOME!
"Nurturing Trust: A Media and Information Literacy Imperative" is the theme of the 11th UNESCO Global Media and Information Literacy Week commemorated from 24 to 31 October 2022 and hosted this year by Nigeria. The annual Global MIL Week is a major occasion for stakeholders to review and celebrate the progress achieved towards "Media and Information Literacy for All". During the celebration of the Week, feature events such as the 12th International Media and Information Literacy and Intercultural Dialogue Conference and the 7th Youth Agenda Forum together with online/offline local events and activities around the world, promote Media and Information Literacy connections across disciplines, professions and borders.
EKOME, active member of UNESCO's MIL Alliance and coordinator of its European Sub-Chapter Mediterranean Group, proudly participates, as it does every year, in the celebrations of UNESCO Global MIL Week promoting initiatives and activities on digital and audiovisual literacy.
Call for Articles: online publication "Media and Information Literacy in the Post-Pandemic Era: Takeaways and Challenges on a Glocal Scale"
EKOME & the EU Sub Chapter Mediterranean Group of UNESCO MIL Alliance welcome 2022 UNESCO Global MIL Week with proudly announcing our brand-new Call for Articles for our special online IDEA publication on the theme of "Media and Information Literacy in the Post-Pandemic Era: Takeaways and Challenges on a Glocal Scale". The Call is addressed to all our members of the EU Sub Chapter Mediterranean Group as well as active and experienced media and education experts, researchers and practitioners who wish to reflect on the new trends set by the pandemic as well as on future challenges and pathways of MIL in school and lifelong learning settings. All articles should respond to one or more of the following questions: How did your research body/organization/entity respond to the pandemic emergency? What were the emerging trends and patterns? How do you assess actions taken during the pandemic on MIL and/or media education? What are your reflections for the future transformation of the MIL field globally? All articles should be up to 2.000 words and submitted in English. Deadline for submissions: March 30th, 2023. For more information click here.
Ms Irene Andriopoulou (Media Literacy Expert & Analyst, National Centre of Audiovisual Media & Communication, co Secretary General of the International Steering Committee of UNESCO MIL Alliance, Greece) along with Mr Grizzle Alton (Programme Specialist, Section for Media and Information Literacy and Media Development, UNESCO) will moderate the Special Session – UNESCO Media and Information Literacy Alliance and the UNESCO MIL and Intercultural Dialogue. In this session the winners of Global Media and Information Literacy Awards 2022 will be announced. Stay tuned on Wednesday 26 October 2022 11.45 am to 1.15 pm (Paris time)!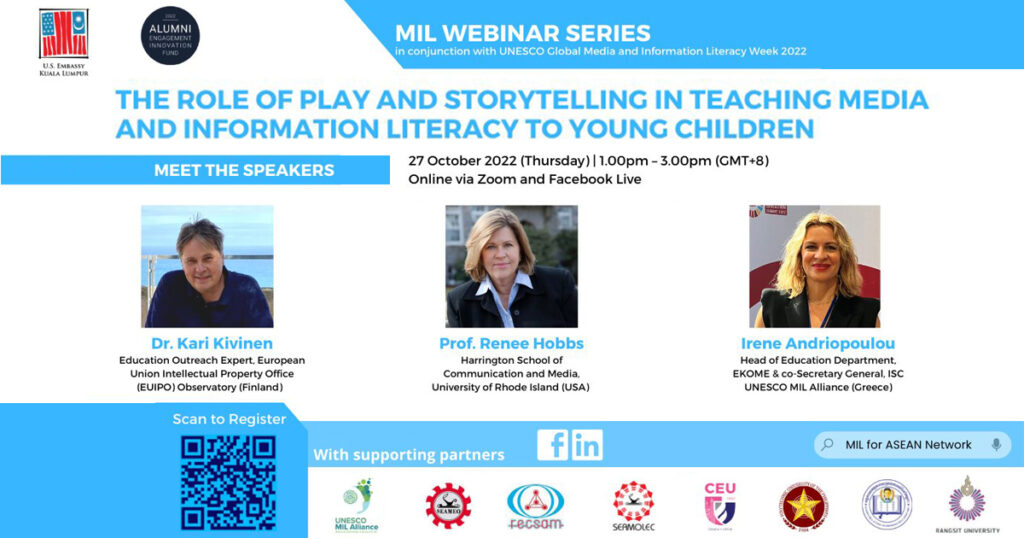 EKOME presents Game and Storytelling for MIL for ASEAN Webinar
A powerful lineup of international speakers will discuss their perspectives on the role of play and storytelling in harnessing MIL skills. Dr. Kari Kivinen, a member of the European expert group on tackling disinformation and promoting digital literacy; Renee Hobbs, EdD., a world-renowned authority on digital and media literacy education; and Irene Andriopoulou, media policy expert and Secretary General from UNESCO MIL Alliance will exchange views during this special webinar addressed to educators and teachers and organized by US Department of State through the Alumni Engagement Innovation Fund and US Embassy Kuala Lumpur. The webinar will take place on 27 October 2022 (1:00pm to 3:00pm GMT+8 Malaysia Standard Time) via Zoom and MIL for ASEAN Network Facebook Page.
EKOME continues partnership with 10th Chania Film Festival
Promoting collaborated actions on the audiovisual and film literacy fields is among the common objectives of both EKOME and Chania Film Festival. This year marks the 10th edition of the festival (19-29 October 2022) and the "Walter Lassaly" Educational Creation Award -established by EKOME two years ago- will be awarded to either a student film or an educational project that sets out to promote film education, active participation within the educational community, as well as research upon historical or social issues, so that they become relevant to a wider audience. Furthermore, within the context of Chania Film Festival's overall educational programmes production, EKOME's initiative to encourage the creation of two school produced short documentaries, accessible to both hard of hearing and visually impaired audiences, will be further enhanced this year. A Study Guide on one of the films is also planned for release this year by EKOME IDEA editions, in the form of a free e-book. The Guide will be championed among teachers in schools of general or special education, aiming to familiarise primary and secondary school students -with or without sensory impairment- with cinematographic art, inclusive education and issues of disability and accessibility. Moreover, EKOME continues its collaboration with Chania Film Festival on the field of audiovisual archiving under the framework of the project "Voices – Oral history in the foreground", which is also targeted towards teachers in schools of primary or secondary education, aiming to raise awareness on issues of local, public, and oral history.
EKOME participates in Round-Table Conference on Oral History on October 27th, 2022
The "National Library of Greece" and "Oral History Groups" will be co-hosting, again this year, a series of actions all through their annual event, known as "Oral History Week", between the 22nd and the 27th of October. These actions will be including conferences, workshops, and tours and to commemorate UNESCO's World Day for Audiovisual Heritage on October 27th, a round table conference on Oral History, will take place. This conference will revolve around three main topic areas: archival management and the challenges of digital technology, the various methodological tools used as well as the dispersal of oral history in society, with each topic having a dedicated round table. Stelios Kymionis, Head of Development and Management of Digital Content Directorate of EKOME, will speak in the first of these round tables on the topic of audiovisual archives management. Moreover, during this week, oral History as an educational practice will also be discussed, while the workshops -for teachers as well as a wider audience- will be focusing on historical mapping, multi-sensory walks, theatre, editing, documentaries, and videography. Participating in the workshops is free. More info here.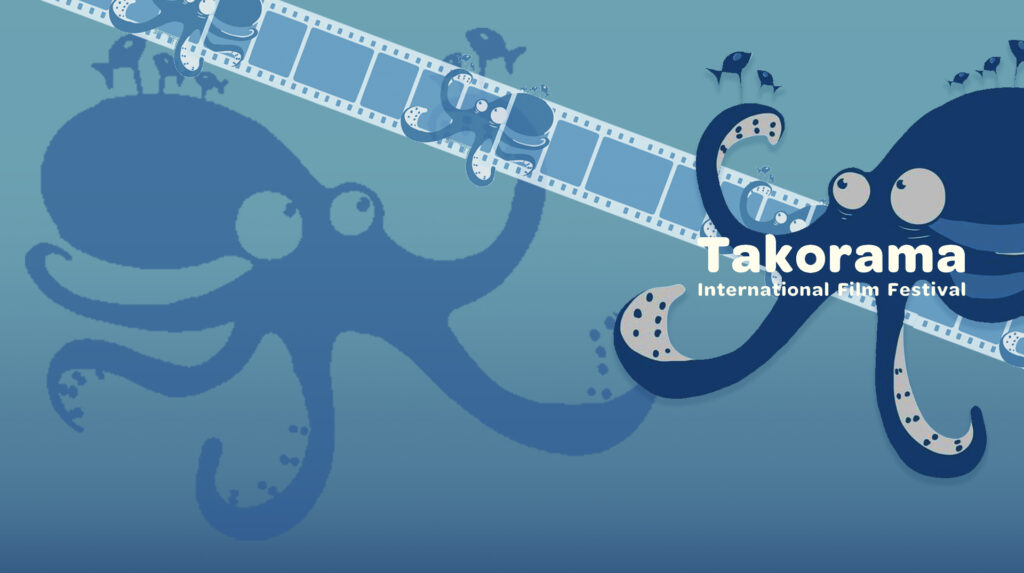 Takorama 2022: Greece emerges as the 2nd country worldwide in overall participation!
154,912 people (out of these 146,573 were children aged 3 to 18) from 96 countries participated in the Takorama International Film Festival 2022, the online short film animation festival for students, teachers, parents, and children from all over the world. In Greece, 2,678 children and adults in total from all over the country -even from the remotest of towns and villages- have discovered the poetic in nature and totally original visual universe of the Takorama. See the overall report of Takorama 2022, the children's awards and detailed data for Greece here.
EKOME, as Takorama's exclusive partner in Greece, has officially participated in the films selection committee and supported the promotional campaign of the Festival in the country, providing information -first and foremost- to the educational community. EKOME has also adapted in the Greek language the worksheets that accompany the films containing educational material. Enjoy 12 Takorama animated shorts available online and explore the accompanying educational activities with your children or students alike! Find them here!
Takorama is organised by the French NGO "Films Pour Enfants", a member of the MIL Alliance Med Group of the UNESCO Alliance, and is under the aegis of UNESCO.
New Guidelines on tackling disinformation and promoting digital literacy just launched by the European Commission!
The Guidelines provide practical support for teachers and educators in primary and secondary schools on how to address disinformation and promote digital literacy in their classrooms. Take a look at the Infographic and the Fact sheet or watch the explanatory video! A report which analyses the role of education and training in tackling disinformation and presents possible solutions through policy at EU and national level, has been also published and can be found here.